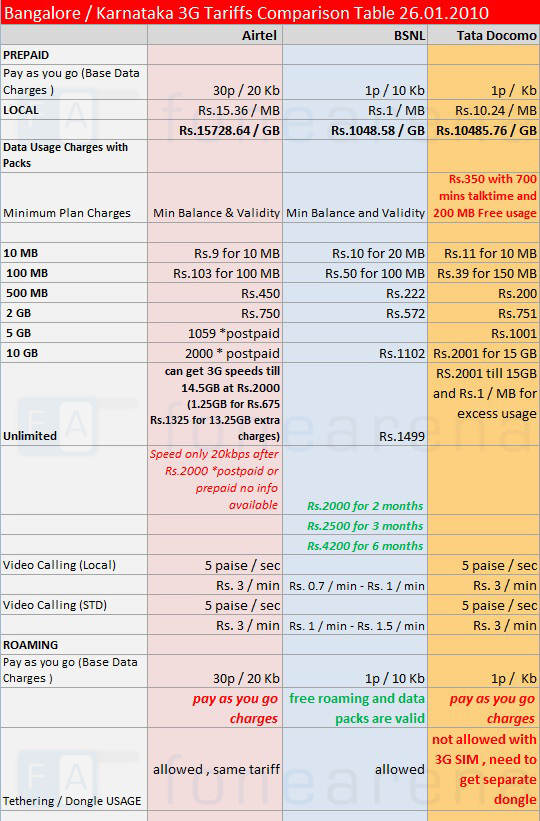 We decided to compare the 3G Tariffs from Airtel , BSNL and Tata Docomo in the Bangalore,  Karnataka Circle. This circle was chosen because it is the only circle maximum Operators are offering 3G as of today.
Reliance was not included because it has launched 3G in this circle.This comparison only takes into account the Prepaid tariffs and our main focus is on the Data Usage charges. We have included Video Calling charges too. We have omitted the basic cost such as the SIM procurement charges.
While we have paid lot of attention to the numbers in this comparison , feel free to let us know in case you find any mistake.
Base Data charges without any Packs( Pay as You Go )
BSNL is the most affordable with charges of 1paise per 10 Kb while Airtel charges 30p per 20 Kb.
So it works out to Rs.1 per MB on BSNL, Rs.15 per MB on Airtel and Rs.10 per MB on Tata Docomo.
Minimum Plan Charges
While both Airtel and BSNL require only basic validity and talktime , Tata Docomo requires that you choose Rs.350 plan with free talktime before subscribing to Data Packs.
Unlimited Data
BSNL offers unlimited Data at Rs.1499 per month. You can get it for Rs.700 per month with 6 months advance payment.
The maximum data you can get on Tata Docomo is 15 GB for Rs.2001.
Airtel has a Flexi Shield plan which offers 1.25 GB for Rs.675 . You are charged 1p per 100 Kb or 10 paise per MB after that. So theoretically you can get an extra 13.25 GB for Rs.1325.
So the maximum you pay is Rs.2000 for 14.5GB of data. After reaching this limit your speed is dropped to 20 Kbps.
( It's been confirmed by Airtel that maximum charges are Rs.2000 under the Flexi Shield plan)
Find the Sheet comparing the 3G tariffs below
[HTML1]
In case the embed does not work check out the Doc here