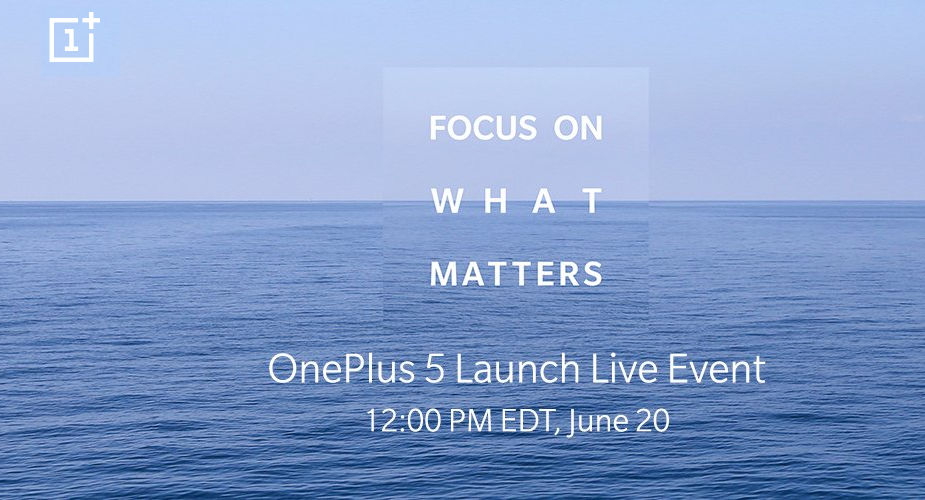 OnePlus today announced that it will introduce its flagship OnePlus 5 smartphone at an event on June 20th. The invite shows an image of the sea along with a small square that zooms on a part of it and a caption Focus on What Matters that clearly hits at dual rear cameras for the smartphone offering background blur. OnePlus  has teamed up with DxO, a photography benchmark to enhance the camera on the OnePlus 5.
OnePlus already confirmed that the smartphone will be powered by Snapdragon 835 Mobile Platform. It also said that it not only aims to offer smooth performance, but also keen to fix touch latency issues and issues that the OnePlus 3 and 3T users were facing at the launch.
OnePlus already said that it has added a feature to OxygenOS to better manage the way apps perform. Apps that you rarely use are deprioritized and kept from affecting performance.
According to earlier rumors, the smartphone is said to feature fingerprint sensor on the front, similar to the OnePlus 3 and 3T, up to 8GB of RAM and Android 7.1 Nougat. The CEO also teased recently that it will be the thinnest flagship.
OnePlus online event starts at 12:00PM EDT (9:30 PM IST) on June 20th and will be stream on oneplus.net. OnePlus is also holding popup events in New York, London, Paris, Amsterdam, Berlin, Copenhagen, Helsinki, Oulu, Tampere and Turku. India is not in the list, but we should get details about the India launch soon.