LinkedIn has announced that it finally has 500 million members spread across 200 countries. India continues to be LinkedIn's largest market in APAC, and the second largest globally after USA. The largest professional social network has registered over 40% growth in India the past two years with a user base of more than 42 million members.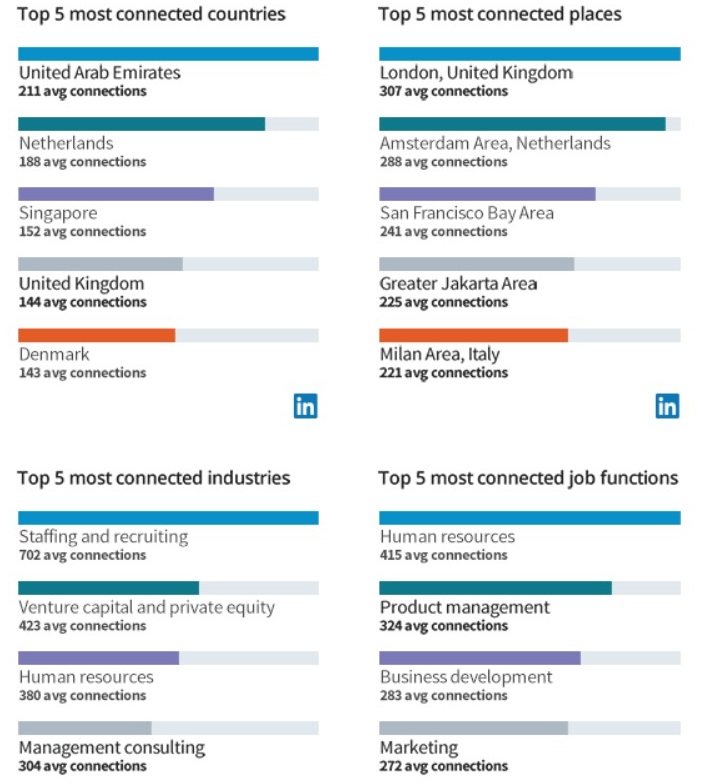 LinkedIn crossed 400 million users toward the end of October 2015, and crossed the 450 million mark about nine months later. The company has not revealed how many of the 500 million are monthly active users (MAU). The platform claimed it globally represents 10+ million active jobs, 9+ million companies and over 100,000 articles posted every week. LinkedIn also shared some fun facts about how connected the LinkedIn global community is across industries. UAE, Netherlands, Singapore, UK and Denmark are top 5 most connected countries. Check out the above chart for more such facts.
India retains the first spot within the APAC region with more than 118 million members followed by China with a member base of 31+ million, while Australia comes in third with 8+ million members. According to findings, Gurgaon ranks highest as India's most connected city with an average of 319 connections. While other major metros such as Bengaluru and Mumbai stand at 200 and 176.24 average connections respectively, during the analysed period.
LinkedIn also highlighted the most connected industries and job functions across the US, UK, China, Australia, Germany, France, and Brazil. For India, the 'Staffing and Recruiting' industry has the most number of average connections, followed by 'Venture Capital and Private Equity', with 'Human Resources' coming in at a close third. India matches its global counterparts in this aspect, as 'Staffing and Recruiting', and 'Venture Capital and Private Equity' emerge as the top two industries across USA, UK, Australia, and Brazil.
Akshay Kothari, Country Manager and of Product, LinkedIn India said in a statement,
We are extremely proud to have achieved the 500 million member milestone globally. India is the largest member base outside the United States and continues to be among the fastest growing communities. To put this in perspective, it took seven years for the first 10 million members to sign up on LinkedIn in India; but the last 10 million members were added in a little over a year! We are confident that this positive trajectory will be aided by the roll out of LinkedIn Lite, LinkedIn's first data-efficient  mobile website, to all members in India today.
In December last year, Microsoft completed $26.2 billion LinkedIn acquisition.