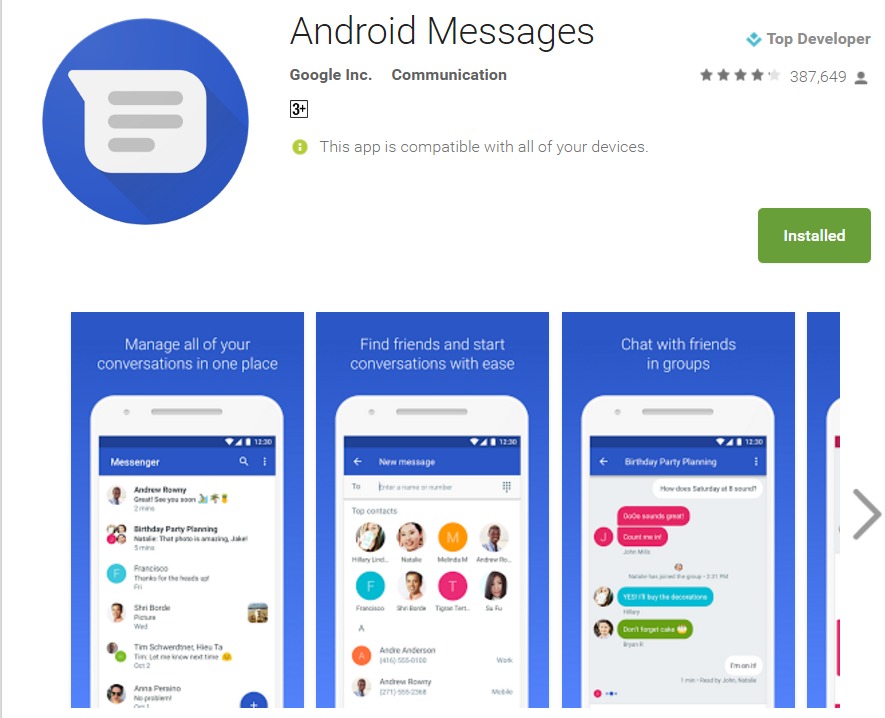 Google had launched standalone SMS app Messenger for Android in 2014. Now, the company is rebranding the app as Android Messages. The renamed app can be seen in Play Store. Google has not revealed the reason behind the rebranding.
The Messenger app from Google supports SMS, MMS, and RCS, comes pre-installed on many Android smartphones however, phones also come installed with another texting app from the carrier or manufacturer as well. The changelog on Play Store notes bug and stability improvements, and simpler sign-up for enhanced features on supported carriers.
Last year in November, Google started Rich Communication Service (RCS) roll out for select Messenger users. For those unaware, RCS is a new communication standard for carrier messaging which brings features such as group chats, high res photos, support for emoticons, location sharing, and exchanging files and more. Carriers like Deutsche Telekom, Globe, Rogers, Orange, Sprint, Telenor, and Vodafone have agreed to use the "Universal Profile" that will fully support rich text messages on their networks.
According to The Verge,  Google is also working with manufacturers like LG, Motorola, Sony, HTC, ZTE, Micromax, Nokia, Archos, BQ, Cherry Mobile, Condor, Fly, General Mobile, Lanix, LeEco, Lava, Kyocera, MyPhone, QMobile, Symphony, and Wiko to make Android Messages the default messaging app on their smartphones. Google Messenger was previously installed on devices like the Pixel, Android One and Nexus devices.