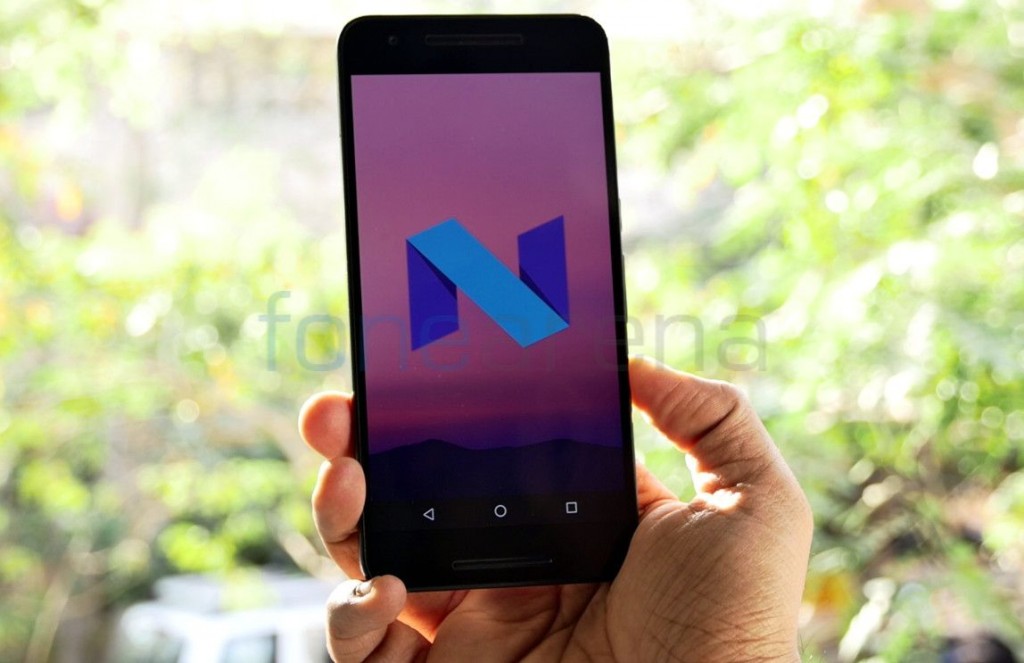 Google just announced that it has started rolling out Android 7.0 Nougat update for select Nexus devices, as expected. Android Nougat brings several new features such as Multi-window support, Notification enhancements, Data Saver, Background optimizations, Direct boot, partial support for more than 100 new languages and 25 locales and more.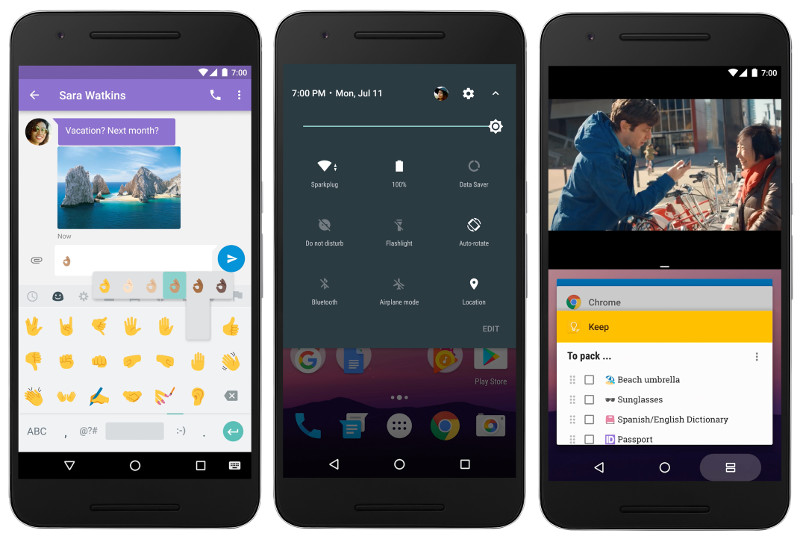 Android N was released as a preview for Nexus devices back in March, ahead of Google I/O. Google confirmed the name as Nougat at the end of June. It released the final Android 7.0 developer preview 5 last month.
Android 7.0 Nougat over-the-air (OTA) update will gradually roll out for Nexus 6, Nexus 5X, Nexus 6P, Nexus 9, Nexus Player, Pixel C and General Mobile 4G (Android One). It might take sometime to reach everyone. Those who have enrolled for Android Beta Program will also receive this final version. Factory images should be available in a few hours.
Google said that it will be releasing regular maintenance updates over the coming quarters. It has already started working on the first Nougat maintenance release, that will bring continued refinements and polish, and it will released this fall as a developer preview. LG already confirmed that its V20 will run Android 7.0 out of the box.
New features in Android 7.0 Nougat

JIT compiler: The new JIT compiler improves runtime device performance, reduces the amount of storage space required for apps, and makes app and system updates much faster.
VR mode: With VR mode, Android Nougat is ready to transport you to new worlds. Coming soon with Daydream and Daydream-ready phones.
Vulkan API: Vulkan API is a real game changer with high-performance 3D graphics.
Doze: Doze is now dozier, with your device going into lower power usage when you're on the move.
Data saver: Limit how much data your device uses with Data Saver. When Data Saver is turned on, apps in the background won't be able to access cell data.
Split-screen mode: Now you can multitask with ease. Run two apps side by side in split-screen mode – watch a movie while texting, or read a recipe with your timer open.
Picture-in-picture mode: On Android TV, you can continue watching your current video while browsing or changing settings.
Quick switch: Double tap the Overview button to switch between your two most recently used apps.
Bundled notifications: See what's new at a glance with bundled notifications from individual apps. Simply tap to view each alert.
Direct reply: Direct reply lets you quickly reply to a message, directly from within the notification shade.
Notification controls: When a notification pops up, just press and hold to toggle the settings.
Customizable Quick Settings: Rearrange your Quick Setting tiles so you can get to what you want faster.
Quick Settings bar: Quick Settings has been redesigned so you can get faster access to top Quick Settings tiles directly in the notification shade.
Improved Settings navigation: Find the right setting faster with an updated navigation menu in Settings.
Settings suggestions: Within Settings, get suggestions for how to get even more out of your device.
'Clear all' in Overview: Instantly close all of your apps running in the background by tapping 'clear all' in Overview.
Emergency information: Emergency Information lets you add information such as name, blood type, allergies, and an emergency contact so that emergency responders can view this information through your device's lock screen.
Lockscreen wallpaper: You can now have different wallpapers on your device's homescreen and lockscreen.
Unicode 9 emoji: Bring your words to life with all-new emoji, including redesigned human emoji with multiple skin tones.
Direct boot: When restarting your device, Direct Boot helps it start up faster, and ensures that important communications still run. So before you even put in your password, you'll still get that important text message and hear your alarm clock ring.
Seamless software updates: On select, new devices running Android Nougat, OS updates can download in the background, so you can go on with your day while your device syncs with the latest OS.
File-based encryption: Building on top of our security platform, Android Nougat introduces file-based encryption. By encrypting at the file level instead of the block level, Android can better isolate and protect files for individual users on your device.
Scoped folder access: Apps can request access to specific folders that you can allow or deny access to (just like app runtime permissions). This is a reduced-scope version of the Storage permission for Apps that only need access to certain folders. It can also allow Apps to request direct access to removable media (on devices with that hardware).
Trusted face: Trusted face, a part of Smart Lock, makes unlocking even easier thanks to a new face recognizer. The new recognizer is less sensitive to conditions like lighting, facial decorations (eyewear, facial hair, etc.), and how you hold your phone. Available on select devices.
Device setup & migration
Improved system backup coverage: More device settings are covered by Android Backup, including accessibility settings, run-time permissions for apps, Wi-Fi hotspot settings and Wi-Fi network restrictions.
Multi-locale support: Select multiple locales in Settings to tailor experiences for you, such as showing search results in multiple languages and not offering to translate webpages in a language you already know.
New languages supported: Coupled with allowing you to select multiple languages preferences, Android Nougat allows you to select from 100 new languages and 25 locales for commonly used languages such as English, Spanish, French, and Arabic.
New language preferences: Sort your language preferences so that apps can pick the right keyboard & text for you.
Accessibility
Accessibility settings in setup: It's easier than ever before for you to discover and configure accessibility features on your new device. Set magnification gesture, font size, display size, and TalkBack right out of the box.
Display size: Not only can you change the size of the text on your device, but the size of all the display elements like icons and images.
Accessibility mono output: Accessibility mono output assists users with hearing loss in one ear by combining stereo left and right channel output to a single mono stream.
Variable text to speech speed: Variable text to speech speed increases productivity of text to speech users by allowing setting wider range for speech speed and pitches.
Work mode: Work mode allows you to turn on and off your device's work apps and notifications for a better work, life balance.