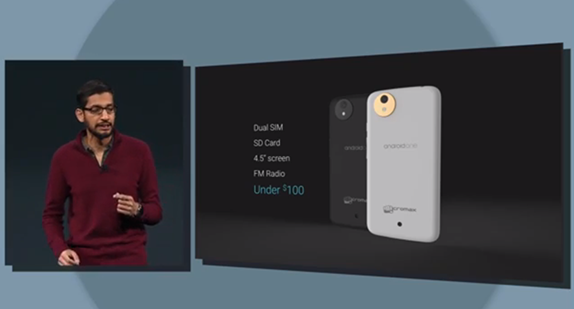 Google's Android and Chrome chief took to the stage to unveil "Android One", a new program for developing markets, using which OEMs can produce really simple low cost Android smartphones. Sundar Pichai detailed this effort to convert the masses of feature phone users to smartphones in developing markets, at the Google I/O developer event today. The program will include a set of hardware reference platforms, with stock Android being the default experience that will reach the consumers. This is certainly a bold move by Google to tackle OEM skinning and is actually taking over from the process that is currently been going on in the Mediatek space.
Software wise, Sundar Pichai also promised these things that possibly tackle major requests from OEMs running their business in the sub-continent –
Play Auto installs – Pre-installation of apps on the phone. You might have noticed several apps like Hike, WeChat etc on your phone, which is part of the OEM bundling, but now Google is providing an option in Android One.
Full Automatic Updates – Updates will be handled by Google, and these devices will get the latest update just like the Nexus devices. A major pain point for local OEMs here that want to deliver an update to their phones.
So, the end result here is Google acting on requests from OEMs that make cheap low cost Android Smartphones. This includes Indian manufacturers like Micromax, Karbonn and Spice, who will be the first to join the program, which is obviously expanding to the other markets as well. This is a much needed program, we'd say, as the low end really needs some support from Google. Android One is a significant announced from Google I/O, but for all the other news, stay tuned to our blog, and we will keep you posted.