We have a little surprise for you today, FoneArena has managed to get the all new Macbook Pro with a Retina Display for a quick unboxing in India. This is the 2.3 GHz Quadcore i7 version with 8GB of RAM and 256 GB of SSD storage.  Watch the video below which is little under 7 mins where we unbox the latest mac to hit the market.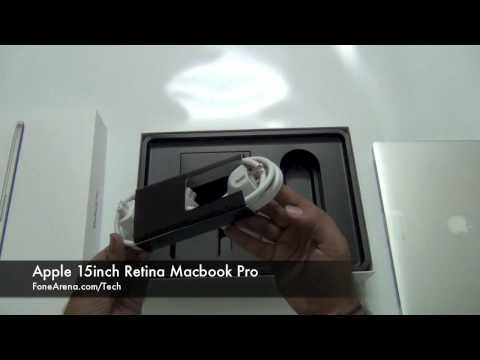 In terms of specs the Retina MacBook Pro is a monster , it packs the latest Ivy Bridge i7 CPU from Intel and 8GB of 1600 MHz RAM. There is no optical drive in order to maintain the thin profile. The hard drive is a 256 GB hi-speed SSD.  Coming to the display , its absolutely mind blowing with a 2880x1800pixel resolution. It is driven by a NVIDIA GeForce GT650M GPU (Keppler) with 1GB of memory.There are 2 Thunderbolt ports , 2 USB 3.0 ports and an HDMI port and a SD card slot.
Its pretty light for a powerful 15 inch laptop at just 2 kilos.
Box Contents
Retina MBP
85W MagSafe 2 power Adapter
AC Plug
Power Cord
Cleaning Cloth
Warranty and Quick Start Guide
Stickers
If you were looking for the price , the MacBook Pro with the Retina Display is one of the costliest laptops in the market in India , the base version which we are currently testing retails for Rs.152900 MRP and is available in the market for around Rs.138000. The higher end model retails for Rs.192900 and is available in retail for as much as Rs.180,000. The part number of the 2.3 GHz model is MC975HN/A
Find more photos in the gallery below. Got any questions or something you want us to test on the retina mac ? let us know in the comments below !