Lack of popular apps doesn't seem to be a problem anymore for the Windows Phone platform as they have lots of applications from the Google Play Store and Apple App Store. They happen to have some exclusives for the platform and a fitness application exclusive for Windows Phones comes from the creators of Windows Phone themselves.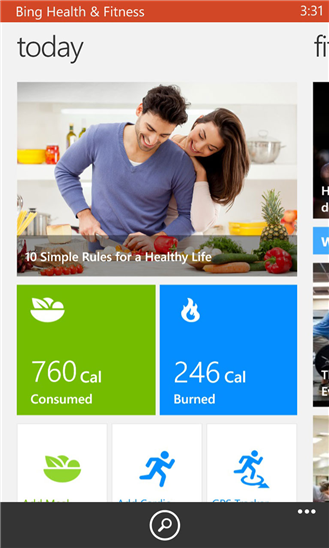 Bing Health & Fitness Beta is available on the Windows Phone Store and as the name says it is still in the beta stage and should be considered a work in progress. The description of the application in the Windows Phone store is as follows
Designed for Windows Phone, the Health & Fitness app brings together great fitness, nutrition and health content, along with trackers, tools and other features. Set your daily calorie goal, record what you eat and get nutritional information for over 300,000 foods. Choose from hundreds of workouts and exercises with step-by-step instructions, photos and video. Use the GPS tracker to record your time, distance, pace and calories burned while you walk, run, bike and do other activities. Enter symptoms to get information on possible health conditions with the Interactive Symptom Checker. Keep your tracker data synced across your Windows 8 devices.
As you can see, it is one of the many fitness applications, but one of the highlights is that it can sync your data across Windows 8 devices which can be quite useful for people who use both Windows on their phone and PC.