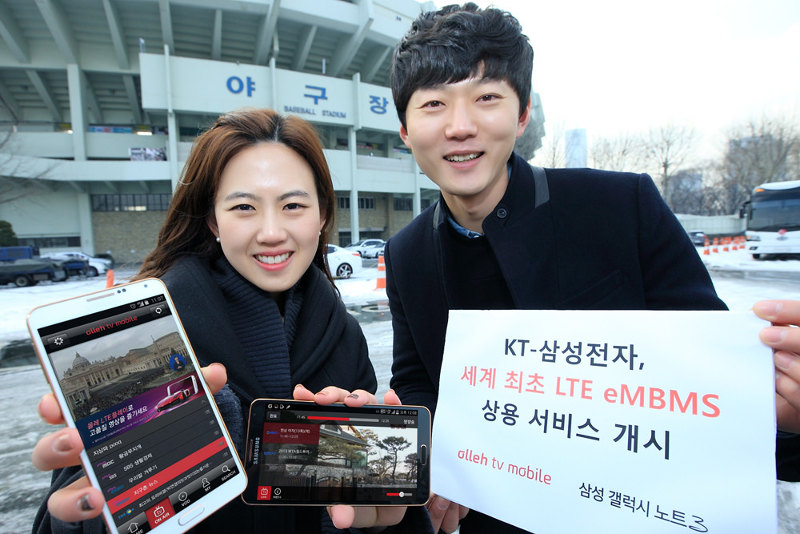 KT Corporation, one of the largest telecom providers in Korea has introduced the world's first commercial LTE Broadcast/eMBMS (evolved Multimedia Broadcast and Multicast Service) for its subscribers using the latest Samsung Galaxy Note 3 smartphone. We already know that the LTE variant of the Note 3 uses the Qualcomm Snapdragon 800 processor. This service is based on Qualcomm's LTE Broadcast Solution, which includes highly optimized broadcast middleware, a software development kit (SDK) and the eMBMS-enabled Qualcomm LTE Advanced chipset.
Using the Olleh LTE Play application from KT, the Galaxy Note 3 users would get 2 live TV channels of Olleh TV Mobile without any data charges. This service started on January 27th, 2014 in select regions in Korea, exclusively for the Note 3 users. Samsung has partnered with KT to provide its eMBMS network equipment and solutions in support of the service's roll out.
This service enables multiple users to simultaneously and efficiently enjoy HD quality video service for an enhanced multimedia consumption experience. It also lets operators to more efficiently manage their network loads for real-time, high-demand content such as live sporting events, breaking news etc. Qualcomm demoed LTE Brodcast at the MWC 2012 last year and also released some whitepapers about the LTE Broadcast/eMBMS technology.