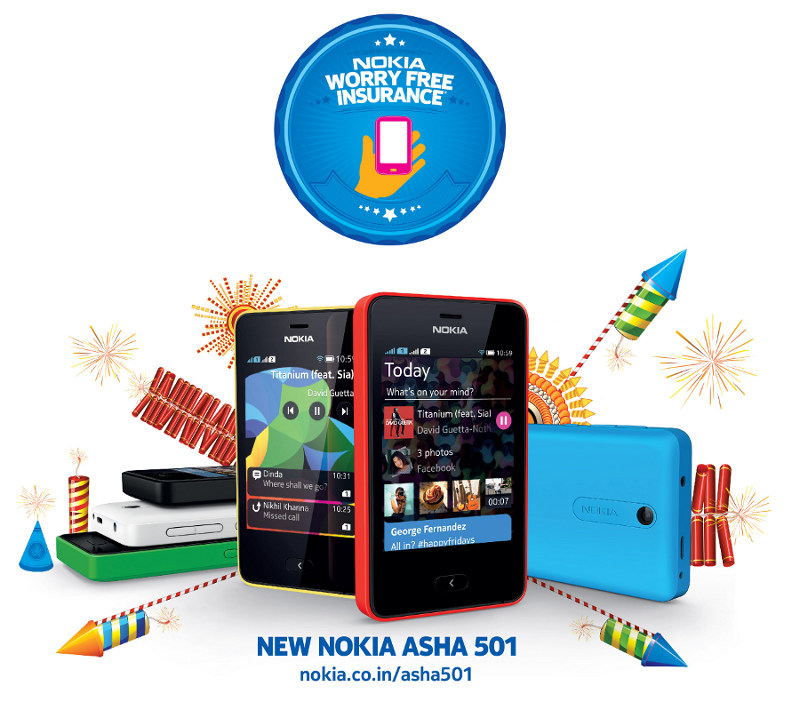 Nokia India has announced a limited period free insurance offer on purchase of Asha 501. Nokia partnered with New India Assurance to provide handset insurance back in March whic includes thefts, burglary, malicious acts, riots among others. This will be administered by Universal Insurance Brokers Services Private Limited (UIBSPL).
The Nokia Asha 501 was launched in India back in July at a price of Rs. 5199. It packs a 3.0-inch QVGA display with hardened glass, has a 3.2 MP rear camera and runs on the Nokia Asha software platform with Swipe UI. It has Nokia Fast lane multi-tasking screen that brings all the recent activities together.
It comes with Dual SIM (with one slot capable of hot swap) support, 2G connectivity, WiFi, Bluetooth, FM Radio and 1200 mAh battery with up to 17 hours of talk time and up to 26 days of standby. It comes in Bright Red, Bright Green, Cyan, Yellow, White and Black colors.
Reading the new offer Viral Oza, Director Marketing, Nokia India said,
We would like to thank the consumers for an encouraging response to Nokia Asha 501, which has reinvented the affordable smartphone market. To bring in festivities this Diwali, we intend to make consumers more carefree through the free insurance offer on the device. About 53 per cent of adults in India have been victims of mobile phone loss or theft. Thus the free insurance offer combined with the festive season, offer consumers just the right excuse to indulge themselves and gift themselves and their loved ones a colourful Nokia Asha 501.
This insurance plan covers the Nokia Asha 501 from
Theft and burglary, including housebreaking,riot, strike and malicious Act
Stolen from a locked / unattended, building / room / vehicle
Threat to use violence
Damage to the exterior or interior, components, result of external impact /deliberate action of a third-party
Fails to work because fluid has entered in its internal circuitry
Suffers accidental physical damage to the insured equipment and/or such damage cause's equipment to stop working
This limited period free insurance offer on the Asha 501 is available till November 15, 2013.