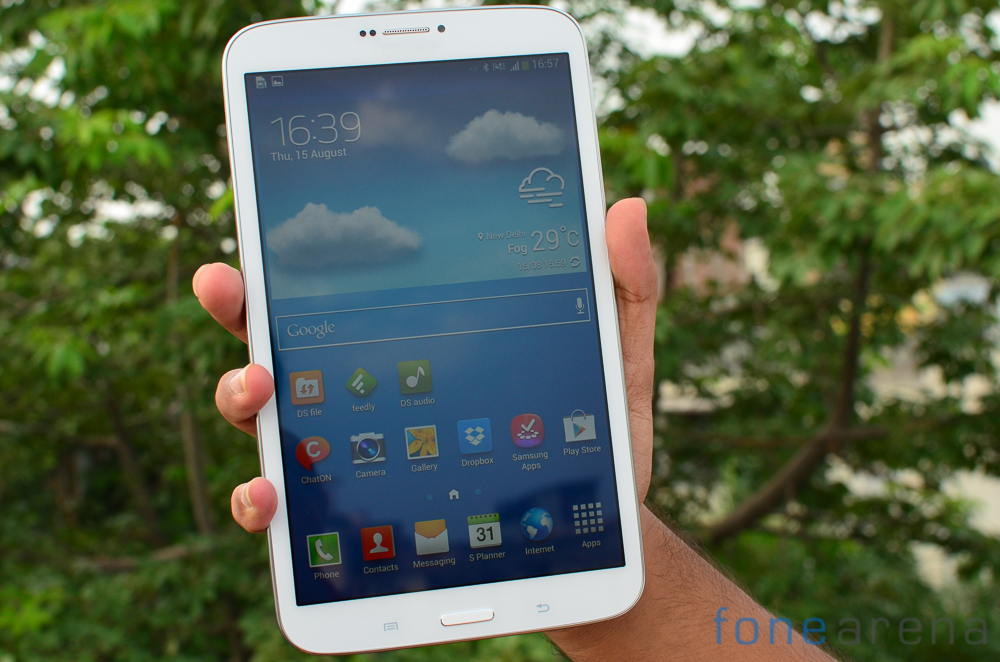 Samsung launched the Galaxy Tab 311 last month in India. We've brought you the review and here are the complete benchmarks of the device. The tablet is powered by a 1.5Ghz dual core Exynos 4212 processor that is paired with 1.5GB of RAM. About 442 MB of free RAM is available at launch. Let's check out how the tablet performs in various benchmark tests.
Benchmarks Video
Vellamo 2 Metal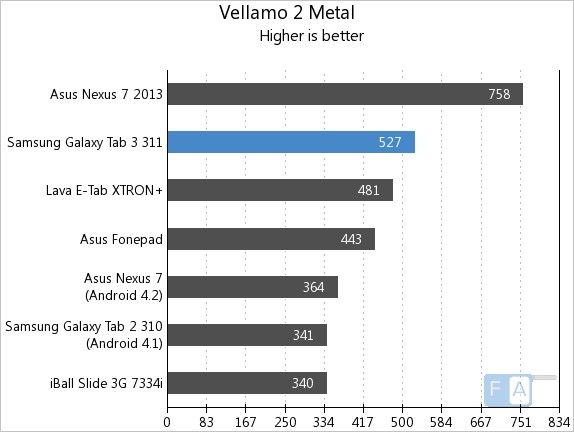 In the Vellamo 2.0 Metal benchmark, the tablet scores well and is ranked just below the new Nexus 7 with a score of 527.
Vellamo 2 HTML5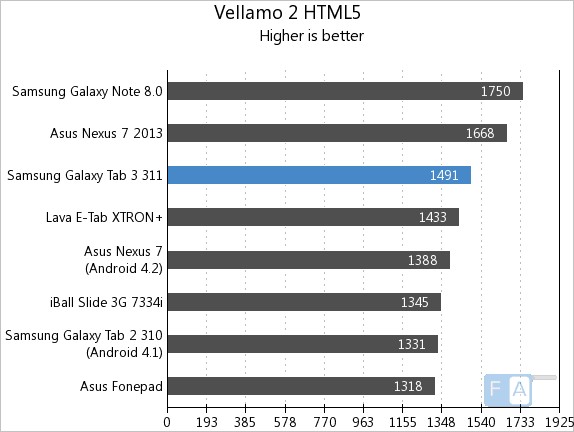 However in the Vellamo 2.0 HTML5 benchmark, it falls down to the 3rd position with a score of 1491. The new Nexus 7 and Galaxy Note 8.0 handily surpass it.
Quadrant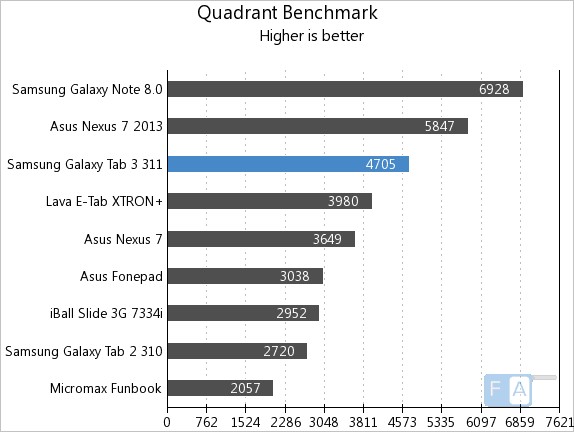 The tablet scores 4705 points in the Quadrant benchmark and is once again left behind the competition like the Nexus 7 and Galaxy Note 8.0.
Nenamark 2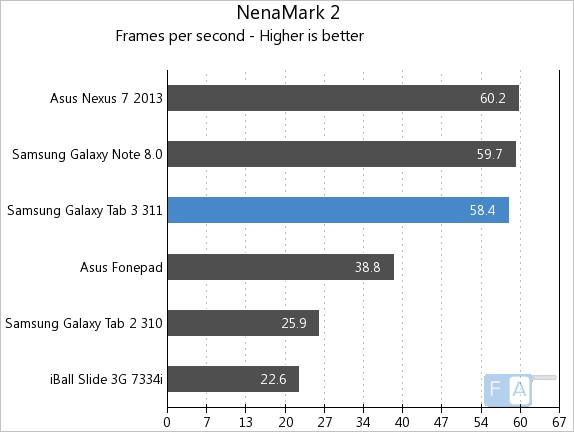 In the GPU centric Nenamark 2 test, the tablet managed to attain 58.4 FPS which again places it in third position.
The Galaxy Tab 3 311 performed poorly in the AnTuTu benchmark and scored 9975 points. The competition easily surpassed it with the new Nexus 7 scoring almost 19963 points.
GFXBench 2.5 Egypt HD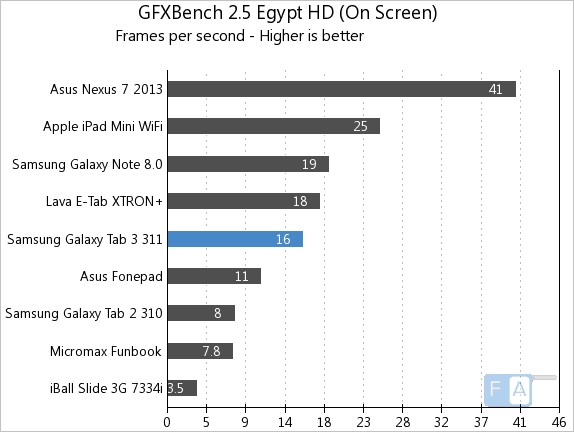 The Tab 311 scores 16FPS in the Egypt HD on screen benchmark.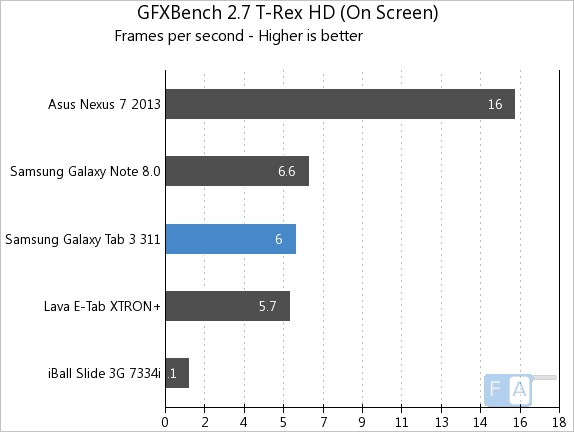 In the T-Rex HD on screen benchmark it doesn't too well scoring just 6 FPS.
Linpack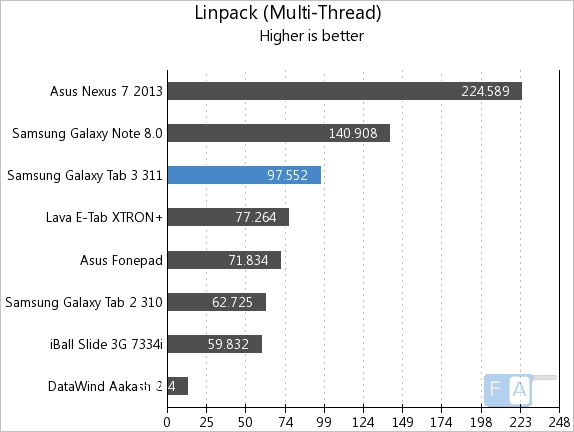 The Samsung Galaxy Tab 311 scores 97.552 points in the multi threaded Linpack test.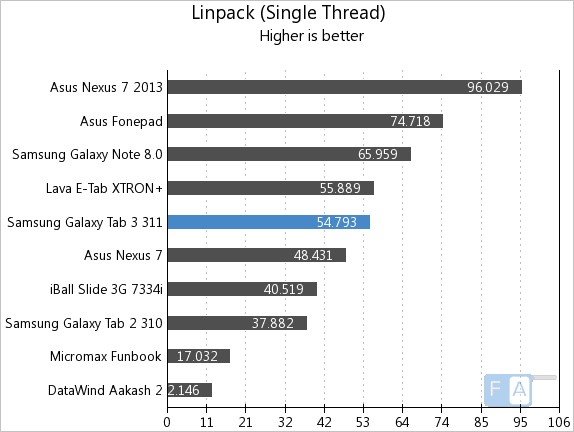 A score of 54.793 places the tab right in the middle of the competition in the Linpack Single Threaded benchmark. If you have any questions about the device, let us know in the comments below. Don't forget to check out the review.