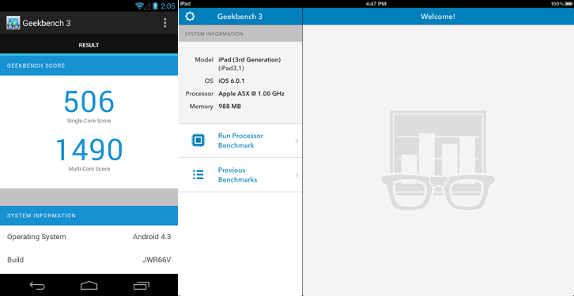 Primate Labs has released Geekbench 3, the company's first major upgrade to Geekbench in 6 years. The new app has new benchmarks, a new scoring system that separates single-core and multi-core scores, new UI for iPhone and iPad and lots more. We start including Geekbench 3 scores in future benchmark tests.
Features of Geekbench 3 for Android, iPhone and iPad
Several new tests designed to simulate real-world scenarios
Quickly and accurately measure mobile processor performance
New scoring system that separates single-core performance and multi-core performace into two separate scores.
New iOS interface that's optimized for iOS 7
Geekbench 3 for iOS now automatically archives each benchmark run, allowing you to go back and view past benchmark results.
Geekbench for iOS also integrates with Dropbox, allowing you to share results between your devices and your computers
Geekbench 3 uses JSON as its native file format that is  based on JavaScript
Geekbench 3 is available as a separate app for both Android and iOS devices and not as an upgrade to Geekbench 2. The new Geekbench 3 is also available for Windows, Mac and Linux from Prime Labs store. License for these are available at discounted rates till August 31st.
Download Geekbench 3 ($0.99 / Rs. 55) – Android | iPhone and iPad