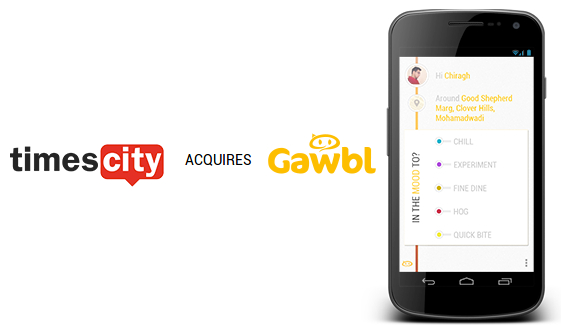 TimesCity, part of Times Internet has announced that they have acquired Gawbl, an Android app that lets users discover places to eat based on their mood. Gawbl was a start-up that began 7 months ago by Pune based team, led by its founder, ChiraghKirpalani. The Android app was launched back in April that offered recommendations in Pune.
Regarding this, Miten Sampat, Business Head of TimesCity, said,
Users are increasingly looking for apps that make it easy for them to decide on the go, and our mission at TimesCity is to be their companion when it comes to having a great time in their city. The addition of the Gawbl team will enable us to deliver a truly amazing mobile first user experience for the TimesCity community.
Chiragh Kirpalani, Founder of Gawbl said,
After having met with Satyan & Miten at Times Internet, I realized that we shared a common vision around discovering great things nearby. Working with the Times Group, I believe we can bring a great user experience to a wider user base across India. We have now removed Gawbl from the Play Store but expect loads of exciting elements and an amazing application coming soon as part of the new TimesCity mobile team.
TimesCity launched their official mobile app for Android, iPhone and BlackBerry 10 devices back in May. The location-based app already offers information about nearby restaurants, theaters, movies, music concerts and more. The terms of the deal are not being disclosed by either party.