Home » Android, Google, Tablets
The New Nexus 7 2013 – What's new? Should you upgrade?
July 25, 2013 – 10:25 pm
on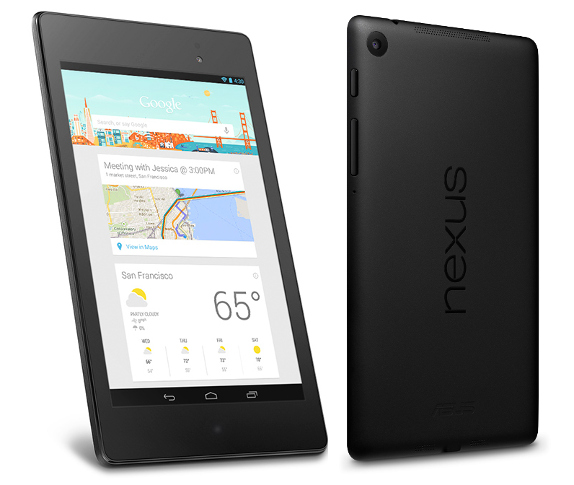 The new Nexus 7(2013) launched just within the last 24 hours but a lot has been already said about it thanks to the various leaks and pre orders that went live even before it went official. That said, the full specifications are finally revealed and we have gone through the completely to see if this is really worth the upgrade. Well, is it? Should you upgrade from your old Nexus 7? Lets find out.
In our usual way of explaining things, let us take you through each and every aspect of the new Nexus 7 vs the old.
Design and build
While the design remains almost the same, with thick bezels on the top and bottom, and curved edges, the choice of materials have changed. The plastic that covered the sides is now completely engulfed by a soft touch material with the glass on the front. This makes it nicer to hold and the dimensions too help. The device has nicely slimmed down from 10.45mm to 8.65mm and weighs slightly lesser from 340g to 317.5g.
Display
The new nexus 7 2013 sports a nicely upgraded true full HD display. The resolution is up from 1280×800 to 1920×1200, but both remain good 7 inch IPS displays. The pixel density is now 331 ppi vs 216 earlier, making it one of the most pixel dense displays on a 7 inch tablet.
Internals
The internals too have gotten a nice upgrade. The new Nexus 7 is powered by a Snapdragon S4 Pro chipset with a quad core 1.5 GHz processor with 2 GB of RAM which is an upgrade from Nvidia Tegra 3 1.2 GHz Quad Core processor with 1 GB of RAM. This should make it easier to drive the high resolution display and bring the performance to a modern levels. But, it being a older generation chipset, we assume some cost cutting might be going on here.
Other obvious changes that come with the chipset include support for Global LTE in the upcoming 32 GB mobile version and Bluetooth 4.0 LE that comes with Android 4.3. The new Nexus 7 2013 also has Wireless Charging and a Slimport, which is more like a MHL port.
Cameras
With the front facing cameras remaining the same in terms of megapixels, the new nexus 7 gains a rear facing camera at the back and is of 5 MP, with 1080p video encoding capabilities presumably.
Software will be on par between both the devices predictably. And finally coming to the price, the base model which is the 16 GB WiFi variant, is 30$ higher at 230$, and starts shipping the end of this month in the US and soon elsewhere. So, is it worth the upgrade?
To be really honest, there were not many things that lacked in the old Nexus 7. If you had bought it and are content with it, there is no reason to upgrade, but the new high res display, internals and the presence of an external camera might tempt you much, let alone the new thinner and lighter design. So, in case you are not content with your current Nexus 7 or any other 7 inch tablet in fact, at this price, this really is a tempting choice. But, if you happen to be in a camp that doesn't own any 7 inch tablet, and are looking for one, this is a no-brainer.
So, will you buy a Nexus 7 if it lands in India soon? Let us know in the comments section below.