Angry Birds has long been a staple game on most smartphones, and with increasing number of people using it on different device, the necessity of game save transfers were clear. Rovio acknowledged this need, and announced that they are releasing their own cloud service called Rovio account, which can save your game progress with a sign-in, and roam the saves through various devices you use. This has finally launched today, on iOS and Android. Initially supporting only the original Angry Birds and The Croods(which had it already), Rovio promises to work on adding it to all its other games real soon.
We had reported earlier on this, and how it worked, but this image explains it better –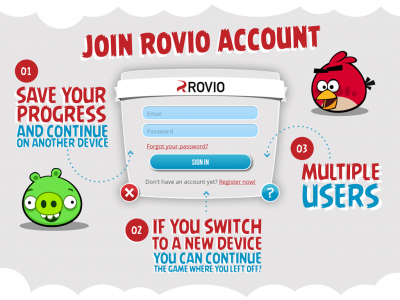 You just need an e-mail ID for a Rovio account. Once you create a password and log in to your account, your game saves are automatically synced to your account, just like how roaming saves work on consoles. Additionally, you can also have multiple users, which is expected because most children play this on their parents' devices, good going Rovio.
We'll keep an eye out for more updates as they come. Should not take too long for other games to get Rovio accounts, the roll out has surely started. For more information, check the source link.
Source Rovio Blog