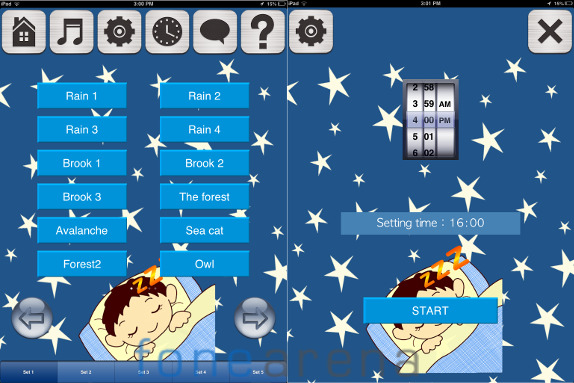 Sleep application is an app for both the iPhone and iPad that would let you sleep tightly by choosing your favorite background music. This uses binaural beat technology that play two different sound frequencies in left and right ears to change the brain waves to mimic the time when you are asleep. Apart from sleep you can change the settings to Relaxation (when you want to relax or mediate), Concentration (When you need to concentrate on things that can be used before playing sports) and Memory (Increases concentration more that can be used when you are studying).
This application needs you to use headphones. Since this uses Binaural beats it is not recommended for people with chronic epilepsy, heart related illnesses (especially with pacemaker) and while driving.
Features of Sleep application for iPhone and iPad
Over 60 background music to help you fall asleep
Uses Binaural beats to conrol brainwaves
Several settings with option to save up to 5 custom settings
Different modes – Sleep, Relaxation, Concentration and Memory
Option to change strength of effect, pitch, volume and playtime
Vibration sensor timer wakes you up when you are in a shallow sleep
Download Sleep application for iPhone and iPad from the Apple iTunes Store for $0.99.