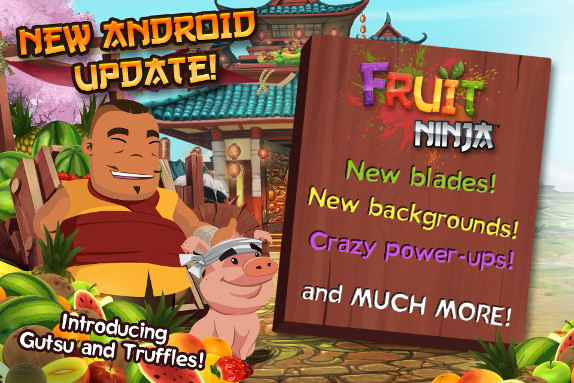 Fruit Ninja for Android has been updated to version 1.8.6 that brings lot of new features including local multiplayer support for tablets (7-inch and above), 8 new blades, 7 new backgrounds, new power-ups and pomegranate fruit. Get deals from the new travelling merchant Gutsu and Truffles. Some of these features are already available for the iPhone and iPad.
New features in Fruit Ninja for Android 1.8.6
Use Starfruit to boost your arsenal with exhilarating power-ups
New Powerups – Bomb deflects, Berry Blasts and Peachy Time
Local Multiplayer modes for Tablets – Two players can now play head-to-head in the unique multiplayer modes Classic Attack and Zen Duel
New Blades – Cloud Kicker, Sakura Slicer, Calligraphy Brush, Lightning Bolt, Rainbow Blade, Water Blade King, Dragon Blade and Firecracker Blade
New Backgrounds –  Cloudy Skies, Cherry Blossom, Parchment, Storm Castle, Gutsu & Truffles, King Dragon and Chinese Zodiac
Pomegranate  fruit in Classic and Arcade mode bursts apart, clearing away bombs and destroying all the other fruit around it!
Download Fruit Ninja for Android from the Google Play Store for free.
Via: Halfbrick Blog