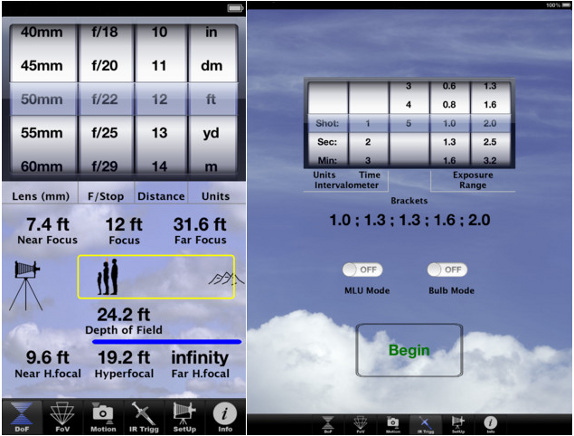 SetMyCamPro is an app for iPhone and iPad that offers the best settings to capture a perfect photograph by accessing the camera. You need an IR Transmitter to remotely trigger your DSLR (select Canon and Nikon cameras only). It has Field of View (FoV) utility with image stabilization, brightness adjustment and image enhancement features that has been introduced in the latest version 1.1 update last week. It also assists in camera configurations for both Depth of Field (DoF) and minimum shutter speed recommendations.
The In app assistance guide offers you insights about the features. This app would be much useful for both newbies and professional photographers.
Features of SetMyCamPro for iPhone and iPad
DoF – Aperture (f/stop) settings for more advanced photographs
FoV – Composition assistance for award winning photos
Remote Camera Triggering for group photos or advanced compositions
Shutter Speed Recommendations to prevent blurred pictures
Capture instant images, time lapse images, High Dynamic Range images and more
Distance unit conversion calculator
In app assistance guide
Flashlight utility for supported devices
Supports English and Metric units
Download SetMyCamPro app for the iPhone and iPad from the Apple iTunes Store for $5.99 / Rs. 350.