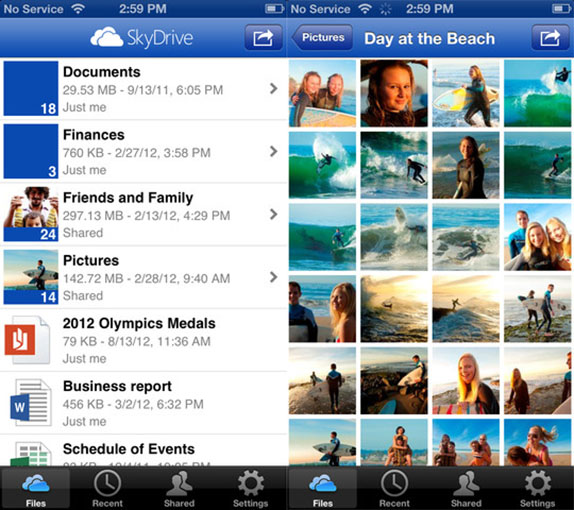 SkyDrive, the cloud storage solution from Microsoft has its app updated for iOS finally, after a long time. The reason it took so long was due to Apple wanting a cut from Microsoft for an in-app subscription model for SkyDrive storage upgrades, initially planned for the iOS app. The app was reportedly re submitted a number of times until now, when Apple and Microsoft have finally come into a consensus on what to do with the IAP type subscription. Microsoft now doesn't have an option for storage upgrade inside the app but users can always upgrade the storage from the web.
The version 3.0 is now available for download on the iTunes store. Here is the changelog –
What's New in Version 3.0
• Updated to support iPhone 5 and iPad Mini
• Download full resolution photos to your iPhone or iPad
• Improved support for opening SkyDrive files in other iOS apps
• Improved support for uploading files to SkyDrive from other iOS apps
• Updated app icons and visuals
• Other bug fixes
You can download it here, or just check for updates if you had it installed already. With this update, SkyDrive is closer to a complete app on iOS. We just need automatic upload now, which makes a lot of sense since SkyDrive offers more free storage than most other services.
Source iTunes