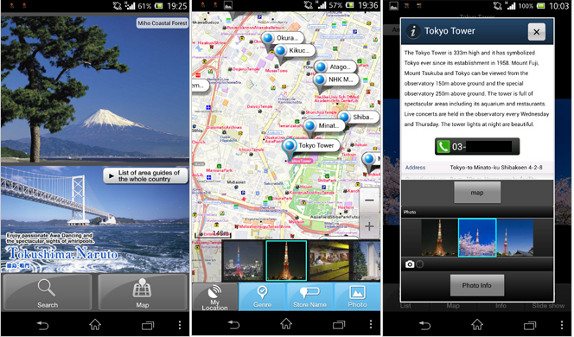 Photo Japan Guide for Android developed by Zenrin DataCom and NTT DOCOMO has been released in 134 countries worldwide including United States, Great Britain, Canada, Australia, Hong Kong, Singapore and India. It is the English version of docomo map navi's Gotouchi Guide, and mainly is aimed at international tourists visiting Japan. This app offers several sightseeing spots, insights about places, local food information, maps,  slideshow of several places and lots more.
Features of Photo Japan Guide for Android
Photo Slideshow / Pictures of Sightseeing spots with photos of recommended sightseeing spots along with details of pictures
Local Spot Search offers details of approximately 15,000 sightseeing spots.
Set which genres to display on the map and drill-down search by genre.
Offers continuous GPS positioning anywhere in Japan.
Check the next spot that you plan to visit by scrolling on the map or selecting the area from the "area" menu for an enlarged map.
Area Guide offers local information on each area separately including details about locations, information and attractions in each area such as sightseeing spots or local foods.
Download Photo Japan Guide from the Google Play Store for free. As a promotional offer, ZENRIN DataCom offers all the functions of the app for free till April 30th, 2013.