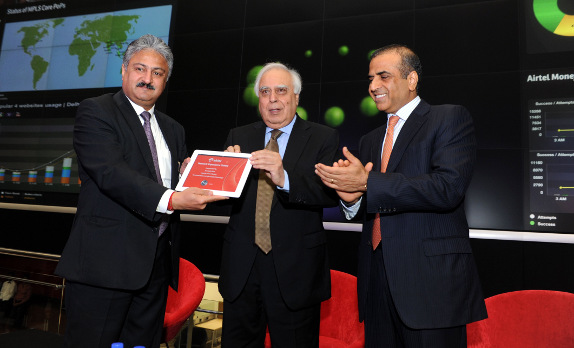 Airtel has launched Network Experience Centre (NEC), first of its kind facility in India. It was inaugurated by Hon'ble Minister of Communications and Information Technology, Shri Kapil Sibal and is based in Manesar (Gurgaon). It would let Airtel monitor their networks spanning across Mobile, DSL Broadband, M-Commerce, DTH, Enterprise Services and International Cables across its India and South Asia from a single location.
It is equipped with cutting edge technology including a 3600 sq feet LED wall that would enhance the Airtel's Network performance by observing end-to-end customer experience in near real time with  360 degree view of any issue. It has Earthquake proof facility designed specifically to serve as a national command center in case of emergencies and natural disasters.
Airtel connects nearly 6 million voice and over 5 million data customers, concurrently. It processes 80 Billion minutes of voice and 24 Petabytes of data traffic every month from over 160,000 sites (2G,3G and 4G), through 150,000 kms of optical backbone, via 75,000 kms of undersea cable system and connects customers globally, through 17 global PoPs for voice and data.
This new NEC would collate and analyze data from more than 70 sources of Network Probes, Contact Centres and tactical facilities.