Home » Android, apps, Games, Software
Horn for Android NVIDIA Tegra optimized game now available for Download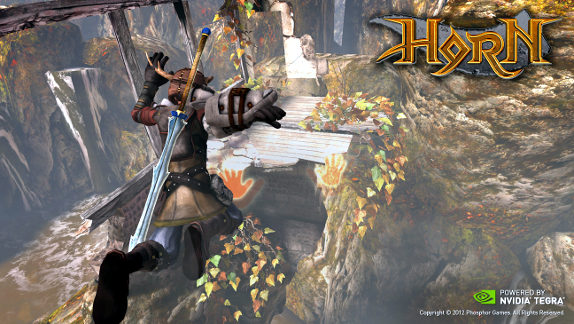 HORN, a 3rd person action adventure game that was announced at the Google I/O 2012 back in June, is now available for the devices that are powered by NVIDIA Tegra 3 and Tegra 2 processors. It uses Unreal Gaming Engine 3, developed by Phosphor Games and published by Zynga. You play a young blacksmith's apprentice named Horn, and you need to fight the enemies with sword, crossbow, trusty musical horn, explore the lands, and solve puzzles. The game released for iPhone and iPad earlier this month.
Features of Horn for Android
Accessible controls that anyone can use- walking, jumping, crawling, even grapple hook, are all performed with intuitive gestures
Freely navigable console-quality detailed world- go wherever you want; not confined to limited path or rail
Cloth simulation, Advanced particle effects, more dynamic and interactive experience for Tegra 3
A rich and unique fantasy world
Touch-friendly melee combat and crossbow style weapons
3 unique and beautiful lands to discover
Endlessly escalating challenge modes
Hidden side content to discover
Download Horn for Android (NVIDIA Tegra 3 and Tegra 2 only) from the Google Play Store and TegraZone for $6.99.