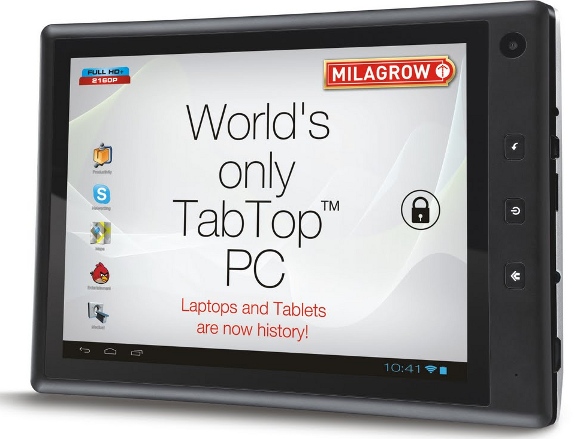 Milagrow has launched TabTop 7.4 India's slimmest tablet at just 6.5mm in India. It has 7-inch (800×600 pixels) capacitive touch screen display with 4:3 aspect ratio and 137 ppi (pixels per inch). It is powered by 1.2 GHz ARM Cortex-A8 processor with Dual Mali 400 MP and runs on Android v4.0.3 (Ice Cream Sandwich) which would be upgraded to future versions. It has 1.3MP front camera with built-in Face Detection.
It comes with 55 pre-loaded applications ranging from Productivity, Utility, Networking, Entertainment and Medical Folders. There are also specially pre-installed unique applications for Sales Professionals, for Doctors and for Architects. It also comes with Google Play Store to install more apps.
It comes preloaded with English and Hindi keyboards, speech-to-text as well as ready-to-use functionality with 60+ language keyboards, Handwriting software, auto spelling correction and personal dictionary on the keyboard.
It has USB that support both 4G/3G dongles and USB OTG support that lets you connect up to 500GB of External Hard Disk. It has Wi-Fi, HDMI with dual screen view and supports 2160p Super Quad HD playback. It has 4GB / 16GB internal memory and supports MicroSD card up to 32GB. It has  4000mAh battery.
The Milagrow TabTop 7.4 is priced at Rs. 10,990 for the 4GB variant and Rs. 13,990 for the 16GB variant.