Home » 4G, News, Sprint, USA
Sierra Wireless 4G LTE Tri-Fi Hotspot coming to Sprint on May 18 for $99.99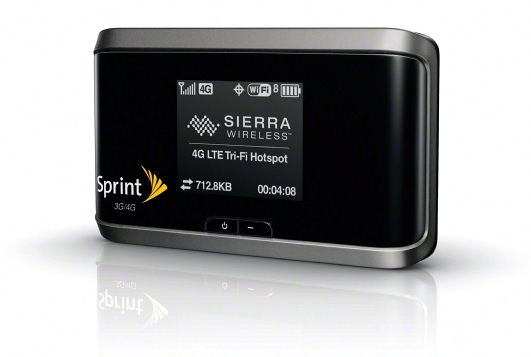 Sprint and Sierra Wireless has 4G LTE Tri-Fi Hotspot that is the first device in the US to combine 4G connections over LTE and WiMAX networks. With the Sierra Wireless Tri-Fi Hotspot, customers can extend their Sprint 3G/4G experience beyond their laptops to up to eight Wi-Fi enabled devices. It also has a microSD slot that enables you to share files with network storage and could be used as a digital media server without any software.
Sierra Wireless 4G LTE Tri-Fi Hotspot features
Supports transition between Sprint 3G CDMA plus 4G LTE and WiMAX networks
Universal Wi-Fi capability: Up to 8 Wi-Fi enabled devices sharing one connection
Compatible with Universal Wi-Fi devices, supports 802.11 b/g/n
microSD slot that supports up to 32GB for shared network storage with up to 8 users and with any DLNA capable device
1.7-inch (160 x 128 pixels) LCD view communicates device information such as Internet connection status, number of people sharing and battery life
Built-in Wi-Fi GPS capability allows users to pinpoint and map their location, available to any capable connected device
Compact, portable device requires no connector, activation or installation, enabling easy re-deployment
Extended Wi-Fi range up to 150 feet outdoors, 115 feet indoors
Backwards compatible to the EVDO Rev. 0 and 1xRTT Networks
Integrated RF Antenna Ports
3600 mAh with access time up to 8 hours and up to 8 weeks standby time
Sprint data plans for the device start at $34.99 for 3GB of combined 3G/4G data while on the Sprint network. Customers also can choose the $49.99 plan with 6GB of combined 3G/4G data or $79.99 for 12GB of 3G/4G data.
The Sierra Wireless Tri-Fi Hotspot would be available on May 18 for $99.99 (excluding taxes) after a $50 mail-in-rebate with a two-year service agreement from Sprint retail stores, including Web Sales, Telesales (1-800-SPRINT1) and through business sales.