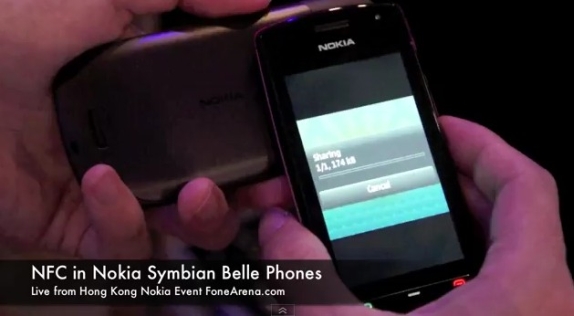 According to a report by research firm Berg Insight, global shipments of handsets featuring Near Field Communication (NFC) has reached 30 million units in 2011 from about 3 million units in 2010. With 87.8% increase annually, shipments are expected to reach 700 million in 2016.
Nokia launched NFC-enabled 700, 701 and 603, Symbian smartphones last year with Nokia 808 Pureview coming this year. BlackBerry has also launched range of handset including, Curve 9350, Curve 9380, Bold 9900 and Bold 9790 last year. LG launched Optimus Net Dual with NFC support for select markets and Optimus LTE last year and has also announced range of NFC handsets this year.
Other manufacturers such as Sony, Panasonic, HTC and ZTE are expected to launch NFC-enabled phones in 2012. You can head to NFC World to get complete list of new and upcoming smartphones with NFC support.
Handset vendors launched more than 40 NFC-enabled handsets worldwide last year. At the beginning of March 2012, more than 100 models had been announced by nearly all leading vendors.
Press Release
Gothenburg, Sweden– March 26, 2012: According to a new research report by Berg Insight, global sales of handsets featuring Near Field Communication (NFC) increased ten-fold in 2011 to 30 million units. Growing at a compound annual growth rate (CAGR) of 87.8 percent, shipments are forecasted to reach 700 million units in 2016. The global rise in smartphone adoption is also driving higher attach rates for other wireless connectivity technologies in handsets including GPS, Bluetooth and WLAN. These connectivity technologies are already a standard feature on high-end smartphones and most medium- and low-end models. Declining costs will also enable broader integration in the featurephone segment that is rapidly gaining smartphone-like functionality.

The attach rate for GPS among GSM/WCDMA/LTE handsets reached 31 percent in 2011 and grew to 38 percent for all air interface standards. Shipments of WLAN-enabled handsets have more or less doubled annually in the past four years and the attach rate increased to 33 percent in 2011. WLAN connectivity in handsets enables a range of use cases including offloading data traffic from increasingly congested mobile networks, media synchronisation and indoor navigation services. "Reliable indoor navigation systems for handsets need hybrid location technologies that fuse signal measurements from multiple satellite systems like GPS and GLONASS with cellular and WLAN network signals, together with data from sensors such as accelerometers, gyroscopes, compasses and altimeters", said André Malm, Senior Analyst, Berg Insight. He adds that periodic calibrations using satellite and wireless network signals are necessary to compensate for the low data accuracy and high drift obtained from low cost sensors used in handsets today.

The NFC technology for short-range wireless point-to-point communication reached a breakthrough in 2011 when several leading handset vendors released more than 40 NFC-enabled handsets. NFC can be used for countless applications such as paring devices to establish Bluetooth or WLAN connections, information exchange, electronic ticketing and secure contactless payments. "Even though it will take some time before the stakeholders agree on business models for payment networks, other use cases such as reading tags and easy pairing of devices may well be compelling enough for handset vendors to integrate NFC in mid- and high-end devices already today" concluded Mr Malm.