Home » Android, apps, Software
Opera Mobile 12 for Android now available, brings WebGL, NFC support and more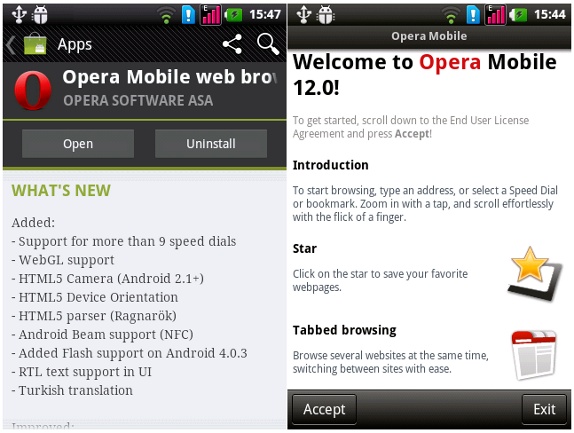 Opera Mobile for Android has been updated to version 12. This brings WebGL, HTML5 parser support, NFC support for NFC-enabled Android 4.0 devices that lets the users to share URLs and more.
New features in Opera Mobile 12 for Android
WebGL on Android phones, for all things 3D and web
Ragnarök, Opera's HTML5 parser support  that offers better web apps and increased compatibility with websites
Support for camera use in the browser.
More customization in the Speed Dial to add a page using address bar, including unlimited Speed Dial supports
Close a tab and also remove w'ww,' preset in the URL bar on one click.
RTL language support in the UI.
Improved scrolling on large screens (like Galaxy Nexus), support for Flash Player on 4.0.3
Improvements in keyboard  support, closing of tabs and SSL connection speed
Share URL using NFC Beam (NFC-enable ICS devices)
Download Opera Mobile 12 for Android from the Android Market for free.