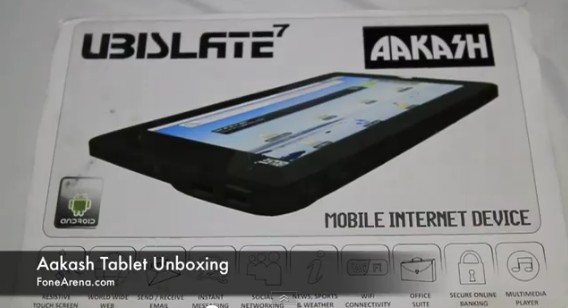 We take a look at the WiFi version of the Aakash tablet also known as the UbiSlate 7. It was available for pre-order for Rs.2499 and those who had placed the order are finally receiving the device.The device is powered by a Arm11 – 366Mhz CPU and is not the fastest tablet out there but the price tag is pretty impressive. If you covert the pricing to USD it costs around 47 USD approximately which makes it one of the cheapest tablets in the world and carries the Made in India tag ! It runs on Android 2.2 and uses a resistive touchscreen.

It is aimed at providing an affordable tablet for students and this model offers only WiFi connectivity although we found a SIM card slot was present. One amazing feature which you can rarely find even in high end tablets is the presence of full-size USB ports which can be used to connect accessories and pen drives. There is also a microSD Card slot and the package comes with a 2GB card.
If you are looking forward to purchasing this tablet , do check out our video.