I have been using Windows Phone for roughly 6 months now and yes, I really like it. WP, although not perfect, has some features that really got me. There is room for improvement, and I'm perfectly happy in going that route, watching it grow and evolute. After the rather mediocre HTC Trophy I'm now using the Nokia Lumia 800, which simply is the best Windows Phone out there, period.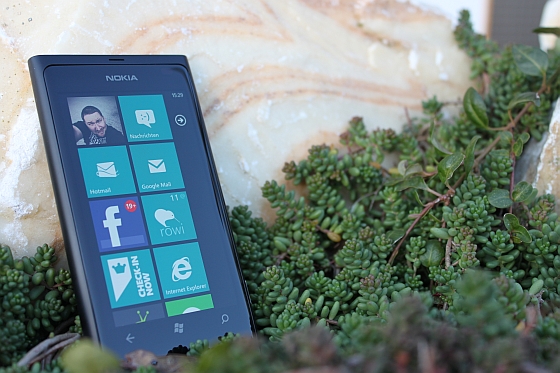 One of the discussion points I have always faced, has been "but there are no apps on Windows Phone". Well, i call it nonsense here. The Windows Phone Marketplace is constantly growing, and is getting filled with not only apps from the known brands, but also quality 3rd party applications, with some really cool ideas. Since people are still learning and are getting into Windows Phone since Nokia has joined the party, I thought it'd be a nice idea to put all my currently installed apps together, and wrap them up into a nice post. Ready? Here we go:
Rowi
Rowi from Hidden Pineapple is simply said, one of the best Twitter clients available for Windows Phone. It perfectly adapts the Metro Interface, sports a ton of features, including Auto Name Complete, photo uploading, tap and hold context menus (in paid version), translations, and more. I especially like the two different notification types: Either a simple counter on the Live Tile, or Push Notifications aka Toasts. A great app for Twitter addicts like myself! Rowi is available as ad-supported, free version, or get the full version for $2.99!
Metrotube
Metrotube is a Youtube client from LazywormApps, and is quite simply put, awesome. No wait.. AWESOME!! I have already introduced Metrotube in a video walkthrough a week ago, and I still find myself browsing it daily. Coming as the successor to Lazytube, the app gives you full control over Youtube, with a very cool interface and some nice features like Playback quality control (low quality, high quality or HD) or pinning a video to the homescreen as a separate live tile! Metrotube is available for $0.99 at the Marketplace!
4th & Mayor
Continuing with apps I use on a daily basis, here is 4th & Mayor, a foursquare client for Windows Phone! 4th & Mayor is very clean, simple to use and comes with a feature that is the reason why i prefer it to the official Foursquare app: a "check in now" live tile, that just needs one tap to open the "nearby places" page for a very quick check-in. Also, the Foursquare is way too much eye candy, I prefer the slick interface of 4th & Mayor. You can get this app for free from the Marketplace!
Facebook
The official Facebook App is, same like Rowi, more like an addition to the integrated Me-Tile, instead of an app that I'm using full time. However, the Facebook app comes in very handy for some actions, like events, friend requests, notes, etc. There's room for improvements and updates, as f.e. there is no possibility for the hardcore facebookers to like a comment, or pages support. However, for day to day use it's actually quite nice. The Facebook app is free, get it from this link!
WP Shortcut Tiles
WP Shortcut Tiles is an easy to way to quickly access important settings on your Windows Phone. Pinning the general settings menu to the homescreen is one thing, but WP Shortcut Tiles saves you even more clicks, and get's you directly into Wi-fi, Wireless, Bluetooth and some more settings. All shortcuts can be created as Live Tiles, so the f.e. the Wi-fi symbol will turn red as soon as it's switched off. There is no simple way yet to just quickly activate/de-activate a setting yet by just tapping on it, which I guess is a restriction from the OS itself, but I hope that will change with future versions. Anyways, WP Shortcut Tiles is another one of my must have apps for Windows Phone, simply because it's saving so much time. The app is free of charge on the Marketplace!
SurfCube 3D Browser
SurfCube 3D Browser is an amazing alternative to the built-in browser app. As the name suggests, SurfCube 3D includes a very nice 3D interface and full Mango compatibility. Apart from that, SurfCube 3D is PACKED with features: private mode browsing, a built in bandwidth saver, a very cool gesture based "edge grab" system, a virtual joystick (yes, you read that right), flick detection (navigating via flicking your phone), full HTML5 compatibility, page sharing to social networks, and many many more. SurfCube 3D has already replaced my standard browsing app, and for a good reason. They say "don't surf without a cube" and i have to agree with them. You can get the App either for free, or in a $1.99 ad-free version!
* Video courtesy of Jay Montano – mynokiablog.com
AppFlow
AppFlow is an alternative version to the Marketplace. All the apps from the Marketplace will be presented in some really useful ways, like lists that feature apps that are recently released but immediately have a high rating. Lists such as hidden gems, rising stars or new & impressive have proven to be very useful in exploring new apps. I found myself using AppFlow a lot lately, always having a look for new, cool stuff. There is a lot to choose from, which is why I highly recommend this app! AppFlow is waiting for free in the Marketplace!
WhatsApp
WhatsApp is a popular cross messaging service, that allows SMS like messaging via data connection. Another great app that made it onto WP, so all major OS's got this one now to offer. A major downside: Windows Phone does not allow the app into the contacts yet, so there is no shortcut to message a friend in the contacts app. However, this will change in future OS versions, so watch out for that. WhatsApp is also free for you to grab here!

* Video courtesy of winrumors.com
CleverPhoto
CleverPhoto is one of the many photo editor apps you can find on Windows Phone. CleverPhoto also adapts the Metro UI very nicely, plus a million features. There is a galore of editing functions, lots of effects, artistic filters and frames, including a polaroid like frame with text ability. Furthermore, there's a handy "history" button, that quickly shows which filters are applied on an already edited photo. There's also an easy sharing feature for Facebook and Flickr, but no Twitter for some reason. Also, there is no text correction support when entering text in CleverPhoto. Nonetheless, this is a fantastic app for everyone who wants to add some cool, instagram-like effects to his photos! $1.49 well spent, get it from this link!
NextGen Reader
I have been looking for a decent Google Reader app for quite some time, and settled down with with NextGen Reader. The $1.99 app gives full functionality of all your feeds, also enabling you to share feeds immediately to social networks, send to instapaper or via E-Mail, save to read it later etc. NextGen Reader also features multiple live tiles support and a customizable user interface. Download here!
Flashlight-X
Every phone I use, must have a flashlight app on. My focus on those apps is, that is has to be as simple as possible, and easy to access. Well, there you have it: Flashlight-X. Pin the app to the homescreen, one tap, and it goes off. Simple as that. There's an SOS mode for emergeny situations, and that is all the app does. It's for free, so go get it here!
Flickr
As a guy that loves photography as much as I do, a decent Flickr app is a must have. Thankfully Yahoo provides us with just that. Flickr for Windows Phone gives almost full control over everything that happens on your Flickr account. There's a built in camera app, different live tiles (photos of your contacts, my photostream, built in camera app), plus it integrates an upload option in the built in Windows Phone upload options! A must have for every Flickr user, and also for free on the Marketplace!
Miso for Windows Phone
Miso is a social TV platform, like Foursquare, but for movies and TV-shows only. There are currently 3 different Miso apps on the Marketplace, and I have settled down with this one for now. It does all the Miso functions you'll need and so far works flawless! This is also a free app!
Cool Tools
Cool Tools is just what it's name suggests. I won't argue whether those are cool or not, but the app features a ton of useful features, which do not come as a built-in feature on your Winodws Phone. Amongst those tools are a stopwatch, countdown clock, flashlight, ruler, accelerometer, different converters, a random number generator, and more. Some of those helpers come very handy sometimes, so make sure to get this app on your WP as well! Cool Tools can be downloaded from this link for free!
Evernote
Everheard of Evernote? Simply put, Evernote is a MUST on every phone. In case you don't know, Evernote let's you write down all kinds of notes, saves them in the cloud and lets invited people work on them. Evernote exists on pretty much every OS, and is just another example of a great, popular tool on Windows Phone. The app is feature-rich – especially the possibility to pin a frequently used note to the homescreen is very cool – easy to use, and another must have, since you can get it for free!
Spotify
Spotify only recently started here in Austria, and I'm very happy about that! Just a day after the launch, the Spotify app was made available as well, and they have done some nice work there. If you want your Spotify playlists on the road, go grab the app from the Marketplace. Keep in mind though, you need a premium account to use the app after the trial period!
Shazam
Yes, they're on Windows Phone too! In case you don't know, Shazam is a handy tool, that "listens" to a song you hear, and with some black voodoo magic, finds out the name of that track. furthermore, there are options to buy the song/album on amazon, check related Youtube videos, etc. There's a free, feature-limited version, or the rather expensive $5.99 encore version.
Cocktail Flow
Coming to the "maybe not a must have, but still cool"-Apps: Cocktail Flow is a beautifully designed app about cocktails. It not only lists recipes of a ton of different drinks, there also recipe packages specifically designed for events like Halloween, St. Patricks Day, etc. Cocktails can also be sorted for different requirements, f.e. only red colored drinks! Pretty much the coolest thing though, is the Barstock: Choose which spirits, liqeurs and softdrinks you have left in your cabinet, and the app will show you which cocktails you can make of it.  This app is obviously just for fun, still comes in handy at times though. Get it for $2.99 from the Marketplace!
Hangover Helper
I discovered this app via Jay Montano's Lumiappaday post series over on my Nokia Blog and found it absolutely hilarious! Hangover Helper will help you recover from a hard evening/night, giving information about where you currently are, shows photos you have taken the day before, current time and date, even setting up excuse messages for you with a funny "Truth On/Off" switch! Hangover Helper exists in a free and pro version and is a riot! It's super funny, not only for heavy drinkers 😉
iMDB
iMDB, the Internet Movie Database also found it's way to Windows Phone. As usual, iMDB helps in all your movie needs, giving access to all information, let's you rate and review and lots more. A must have, free app for every movie enthusiast like myself!
Super Mario Ringtones
Come on.. you just knew it! 🙂 Super Mario Ringtones contains over 100 ringtones and short sounds from 10 different Super Mario games, which can immediately be saved to your phone. You just have to love it! Also for free from the Marketplace!
As you can see, the Windows Phone Marketplace already contains a ton of useful apps, and I'm sure there are people out there who have even better stuff on their Windows Phone. It'll take me ages to explore the full potential, and so far it's just a fun ride exploring my way through all those apps. I will update this post every now and then if I have found important new apps, which I feel you should check out as well. Now Nokia, would you please bring us the Sleeping Screen and Situations to our Windows Phones?! 😉
There are a few more apps on my Lumia 800, which are specifically made for austrian users. I won't cover this here, as the majority of the readers won't make much use of it. Those apps will appear soon in a separate post on my private blog!