Home » Handsets, News
Sonim XP3300 Force enters into Guinness World Records as World's Toughest Phone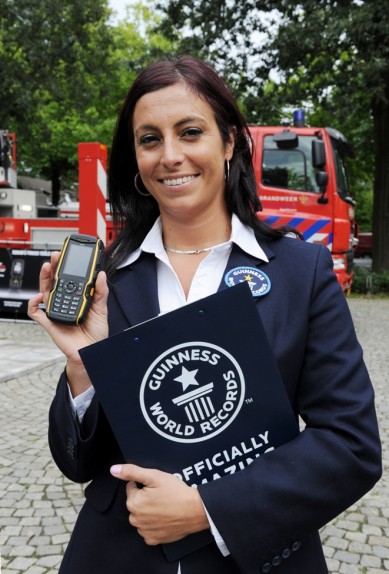 Sonim XP3300 is a rugged phone which can certainly handle some abuse like we saw at MWC this year [Sonim XP3300 Video ].  The phone has entered into the Guinness World Records after surviving drop from 25 metres above the ground.Here is the proof of the drop from 25metres. We have to admit we can barely see the phone's display after the test.
PR
Sonim Sets New Guinness World Record™ – Now the World's Toughest Phone

San Mateo, CA, September 1st, 2011 – The Sonim XP3300 Force is officially the 'World's Toughest Phone' – securing its entry into the Guinness World Records™ hall of fame. The ultra-rugged phone survived an extreme drop test from a remarkable 25 metres onto concrete without operational damage – a drop higher than a twelve-story building.

To fulfil the strict requirements, the record attempt was witnessed by independent judges from Guinness World Records™, who tested the phone to confirm it was still working following the drop, beating the previous World Record of 3.25m held by the 2008 JCB Toughphone.

Bob Plaschke, CEO, Sonim Technologies comments, "We wanted to stamp Sonim's name on the World Record, confirming that the Sonim XP3300 Force is the toughest phone in the world. Most mobile phones are drop-tested to a metre, which just isn't enough in extreme environments such as construction sites, oil rigs or in the forest."

Plaschke continues, "Establishing the Guinness World Record for highest mobile phone drop assures remote and tough workers that their Sonim phone is 'fit for purpose' and can withstand the daily knocks, drops and tumbles."

The Sonim XP3300 Force is an ultra rugged handset that goes beyond Milspec. It has been tested against Sonim's RPS standards and dragged behind boats and quad bikes, driven over by cars, immersed in ice and concrete, sandblasted and submerged – and still lived to tell the tale:

Certified against dust, dirt and shock as well as being fully water-resistant up to 2 metres, Sonim phones are ideal for the toughest environments and applications.