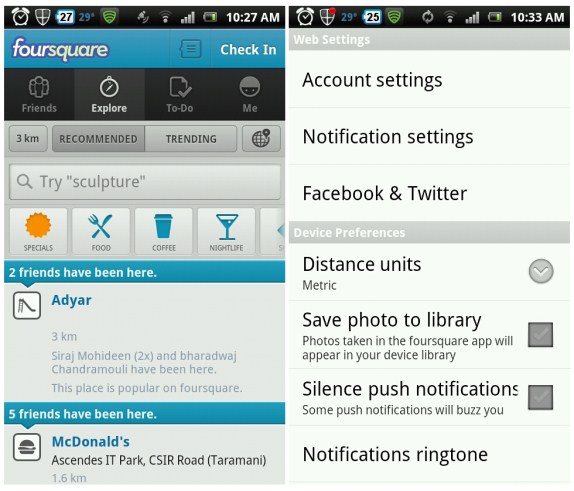 The latest update (v 2011-08-11) for the Foursquare for Android brings new redesign for title bar and tabs and lots of new features like Facebook and Twitter sharing settings, new venue photo gallery design and much more. The previous update last month brought Notification tray and redesigned settings.
New features in the latest version of Foursquare for Android
The title bars and tabs have been redesigned and the check-in button has been moved to the title bar
Check-ins are now streamlined and faster like Foursquare for iPhone
Specials have been moved to Explore from the nearby places list
Now you can manage the Facebook and Twitter sharing settings from app itself
The venue photo gallery has been redesigned and option to share photo with the venue later
Option to save the photos taken with the Foursquare app to the SD card from the settings page
Viewing the items in the notification tray now clears the push notifications in the notification manager
Download Foursquare for Android (Android 1.6 and up) from the Android Market for Free.