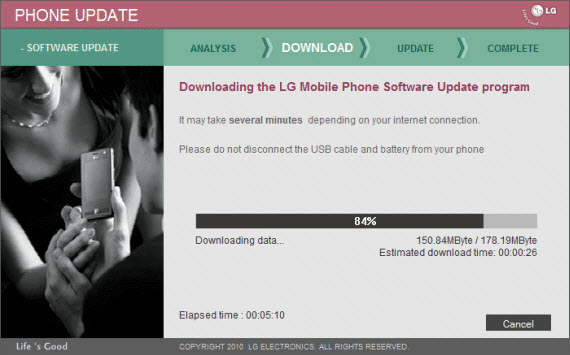 Back in March, T-Mobile announced the Android powered LG G2x smartphone. This handset is the T-Mobile's version of the popular LG Optimus 2X smartphone. LG G2x originally runs on the old Android 2.2 (Froyo) OS. Back in April, T-Mobile promised that, the powerful LG G2x will get the Gingerbread update soon. After waiting for almost 4 months, LG finally rolled out the official Android 2.3.3 (Gingerbread) update for the LG G2x smartphone.
The size of the update is just 178 MB and the build number is GRI40. Sadly, this update is not available via. Over-The-Air (OTA). You will have to manually update your smartphone by connecting it to your computer and then running the LG Mobile Support Tool. You should backup your data before updating the device.
Have you updated your LG G2x to Android 2.3? Are you facing any issue after the update? Let us know in the comments section below. To download the LG Mobile Support Tool, head over to this page. LG Optimus 2X is also expected to get the Android 2.3 update soon. Stay tuned for more info!
[ Image Credit ]