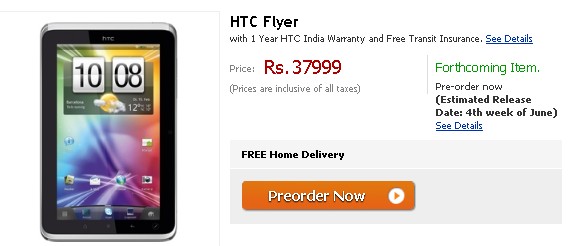 FlipKart has listed the HTC Flyer Android Tablet at Rs.37999 with an Estimated release date of 4th week of June. We wonder if the price mentioned is real or there is a mistake. We wonder how HTC is expecting to sell a WiFi Android tablet for such a price tag especially when a iPad 2 3G retails for a similar price.On looking at the specs , looks like the the model listed is a 32GB WiFi only model. We are not sure if a 16GB WiFi version will be available.
UPDATE: Now the source mentions 3G availability in the model but we are not sure if its the 3G or WiFi version. We really hope its a 3G version.
When we played with Flyer back in Barcelona this February , it looked pretty nice. The MagicPen looked interesting but looks like one has to purchase it separately.  Hope the pricing is more realistic. Check out the video embedded below.
Check out the FoneArena HTC Flyer Review
Thanks Amit for the tip