Sandisk has launched it's 32 GB microSD card in India and we had a chance to play with it for a week. Here is a review of the Sandisk 32 GB microSD card which includes some performance benchmarks

The card comes in a pretty simple packaging inside a plastic box.

We tested this card in the Nokia N8 , Samsung Galaxy S which support memory cards of this capacity. The N8 and Galaxy S come with 16GB of inbuilt memory and with the help of this 32GB card you get a whopping 48GB of space for your mobile phone.
It's a Class 2 card and to be honest , the transfer speeds are not ground breaking. But we love the idea of carrying around 30 GB of data in such a small form factor. But the Sandisk card performed pretty well considering it's just a class 2 card.  We had no issues copying all kinds of content including movies , music , files and lots more to the card using a Sandisk Card Reader. In fact 32 GB is actually a lot of space for your mobile phone and most of us will never get close to that !
Sandisk 32GB microSD card Benchmarks
Reed Write speed test using CrystalDiskMark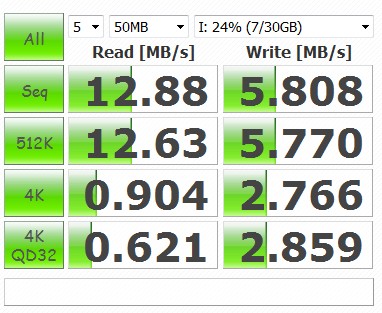 Read speeds were around 12-13MB/s and Write speeds hovered around 5-6 MB/s
Read Speed measured using HDTach
Read speeds hovered at around 15MB/s and dropped to 7 MB/s for a while before shooting up again.

32 GB of storage with Class 2 speeds is not a really breathtaking  experience. While we love of product for the amazing amount of storage it offers but we are hoping that the price comes down as the current market price for this memory card is around Rs.9000-10000 in India which is certainly expensive !