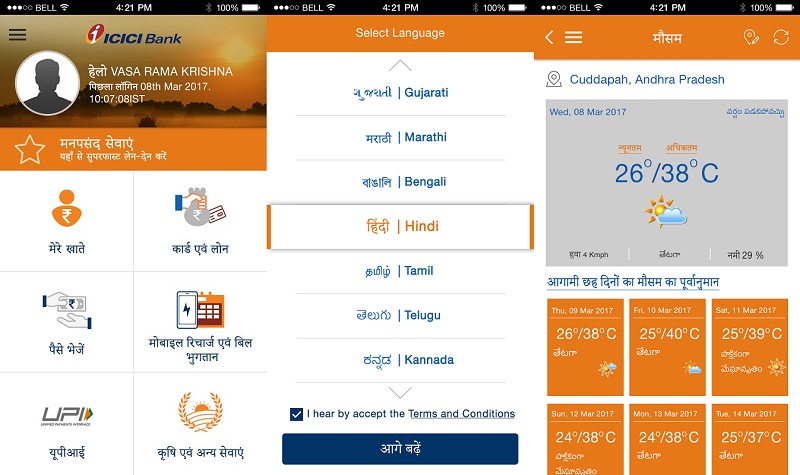 ICICI Bank Ltd. has launched mobile banking app for rural customers that allow them to access banking services as well as information on agri services. Dubbed as Mera iMobile, the app which can be used by anyone including non-ICICI Bank customers, is available in eleven Indian languages.
Any ICICI Bank customer with a rural savings account / Kisan Credit Card/ Gold Loan/ Self-Help Group/ other agri loans can download 'Mera iMobile' from Google Play store on their Android smartphone. Non-ICICI Bank customers can also download to use the agriculture advisory related services. ICICI Bank customers in rural areas can check outstanding interest, available limit, account statement and other banking related features on the app. They can also make payments from within the app from their linked savings account for KCC. The app will soon get an ability to renew these loans from the app itself.
The app also enables them to undertake an array of frequently used banking services from their smartphone, without using mobile internet services. In addition to banking facilities, the Mera iMobile app also offers agriculture related information like crop-wise mandi prices of nearly 230 crop varieties across 460 mandis. It also displays taluka-wise weather update for close to 3700 talukas across and over 300 districts, aiding farmers to plan their sowing and harvesting activities conveniently and in an informed manner. The agriculture related info will be available to the non ICICI bank customers as well.
Chanda Kochhar, MD & CEO, ICICI Bank said in a statement,
Today, India has the second largest – internet user base and smartphone market globally. We envisage that the next wave of growth in internet usage will come from rural India due to growth in cheaper smartphone handsets, spread of wireless networks and evolving consumer behavior.
The app is available in eleven Indian languages including Hindi, Marathi, Gujarati, Tamil, Telugu, Kannada, Malayalam, Bengali, Odia, Assamese and Punjabi. It also offers UPI services in multiple Indian languages.