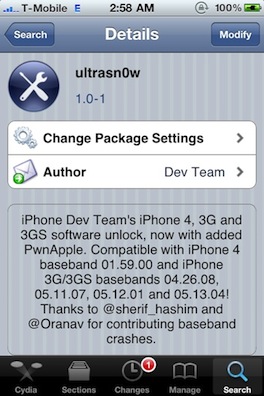 If you are using a carrier locked iPhone 4 and looking forward to unlock it , then good news for you as the Dev Team has released an updated version of ultrasn0w which supports the iPhone 4
Here the devices supported by the unlock.
iPhone4 baseband 01.59
3G/3GS basebands 04.26.08, 05.11.07, 05.12.01 and 05.13.04
In order to download the unlock , your iPhone must be jailbroken and you should have cydia installed. You need to add the repo repo666.ultrasn0w.com to cydia incase you can't find ultrasnow .
Jailbreaking is Legal in USA but you have the risk of  losing your warranty. In case you have an iPhone 4 from AT&T you can use that phone on any carried worldwide after the unlock. But you still need a microSIM card.