Home » Games, General, Motorola, Press Releases
Boost Mobile Launches Motorola Rambler and Bali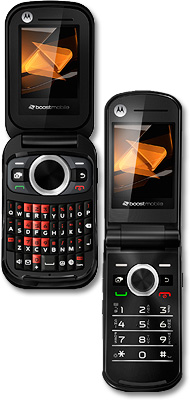 Boost Mobile have announced two new Motorola handsets, the Rambler and the Bali.
Motorola Rambler
It is a flip phone with QWERTY keyboard. It will be made available on August 11th at a price of 99.99$ before taxes. It has the following features:
1.3 Megapixel Camera with Video Recording
Internet, Email and Instant Messaging
Bluetooth
GPS
It's a low end QWERTY phone aimed at the masses.
Motorola Bali
Motorola Bali is somewhat similar to the Rambler. It too is a flip phone but without the QWERTY. It will cost you 149.99$ before taxes if you order it online. It's features are:
1.3 Megapixel Camera with Video Recording
Internet, Email and Instant Messaging
Bluetooth
GPS
External Music Controls
micro-SD Card Slot
via UnwiredView