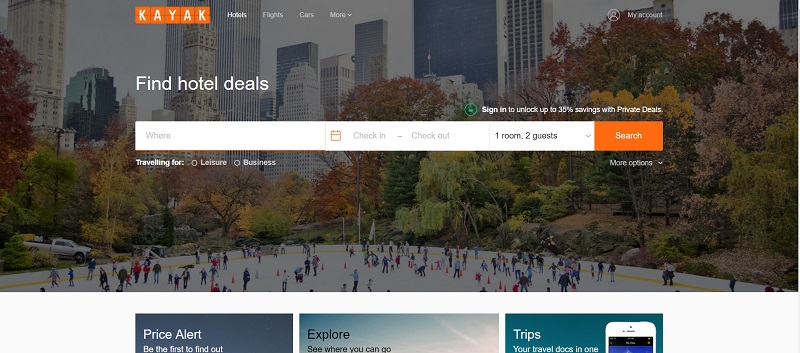 Kayak, the global travel search engine has officially announced its entry into the Indian market. The company lets people people search, plan and manage their travel. Kayak claims to operate with more than 40 international sites in 20 languages and powers 1.5 billion queries annually for travel information and displaying results from hundreds of airlines, 900,000+ hotels, along with rental cars, holiday packages, activities and millions of verified reviews.
In India, KAYAK has partnered with the top local online travel service providers, airlines and hotels for best results from across hundreds of websites. Kayak offers service such as price alerts, price forecasts and free itinerary management with Trips.
Imbert Fung, Director Southeast Asia and India at KAYAK said,
India is a rapidly growing travel market and has continued its impressive growth over the past several years. In addition, the Indian online travel market has immense potential, with increasing penetration and acceptance across domestic and international markets. We have exciting plans for KAYAK in 2017 and setting up operations here is a fantastic step towards making India one of our core markets. While we have had a presence here for a while and feel we understand the Indian user, we are now greatly enhancing our local presence by setting up country operations with Abhijit Mishra at the helm as the country manager for India. What sets KAYAK apart from other travel search engines and online travel agencies is the comprehensiveness of our search results and the travel tools we provide. KAYAK prioritises relevance, accuracy and speed.
Indian travel search space is already dominated by players like MakeMyTrip and Cleartrip.