Home » Airtel, News
Record TV From Your Mobile With Airtel Digital TV Recorder
Airtel recently launched the Airtel Digital TV Recorder, an enhanced Set Top Box, that allows you to record TV right from your mobile. This service is definitely amazing since you can record TV from almost anywhere with the help of your mobile phone.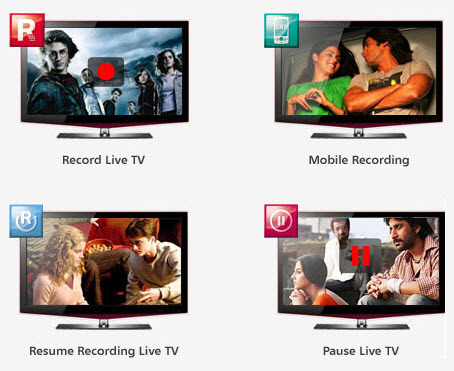 Speaking on the occasion, Ajai Puri, Director and CEO – DTH, Bharti Airtel, said, "At Airtel, we believe that the key to our brand is innovation and technology is one vital element of our innovation endeavours. This product would be a lifestyle enabler that will significantly change TV viewing trends in India. It is also strategic as it brings together the TV screen and the Mobile screen. The launch underlines our key strength of understanding consumer needs and using technology to deliver a simple elegant benefit through the most ubiquitous element of ones life today- the mobile."
How It Works?
1) Download the mobile application, that allows you to record TV from mobile, just by sending an SMS to 54325 with the keyword "MGUIDE".
2) Install the application on your handset.
3) To record TV, just open the Digital TV recorder application and select the show you want to record and then select the Record Now option.
4) You mobile phone will instruct the Set top Box to automatically start recording as soon as the show starts.
5) You can view the recorded show by selecting MENU > MY RECORDINGS and view the list of recorded show.
Airtel digital TV Recorder is priced at Rs. 6990/- to all new customers and at Rs 5990/- to all existing Airtel digital TV customers.